THOMPSON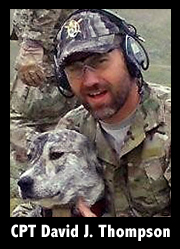 U.S. Army Captain David J. Thompson, 39, of Hooker, OK, commander of Operational Detachment Alpha 3334, Company C, 3rd Battalion, 3rd Special Forces Group (Airborne), based in Fort Bragg, NC, was killed on January 29, 2010, while supporting combat operations in the Wardak Province of Afghanistan.
Thompson is survived by his wife, Emily, their two daughters, Isabelle and Abigail, his parents, Charles and Freida, and his sister Alisha Mueller.
10 rounds of:
15 ft Rope Climb, 1 ascent
95/75 pound Back squat, 29 reps
135/95  pound barbells Farmer carry, 10 meters
Begin the rope climbs seated on the floor.
Mod Squad :
Five Rounds for Time:
1 Rope Climb or 10 Ring Rows
20 Back Squats
20 Yard Prowler Push or DB Farmer's Carry
OUR NEXT ON-RAMP Classes start on Monday June 4th at 6:30am and 6:30pm respectively.